Director of Food Services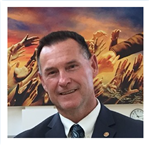 Joseph K. Vaughn is the Director of Food Services for LAUSD. Mr. Vaughn has been a Food Services Director for 22 years, most recently as the "Executive Director of Food and Child Nutrition Services" for the Cleveland Metropolitan School District.
Mr. Vaughn has a BS degree in Accounting from Newberry College and a M.Ed in Education from Post University, specializing in "Teaching and Learning". Mr. Vaughn has received national recognition for his success in the "Summer Food Service Program" as well as the "At Risk Supper Program". He has spoken at numerous Regional and National Conferences with groups such as "No Kid Hungry: Share Our Strength" and the "Food and Research Action Center or FRAC".
Mr. Vaughn has been married for 30 years and has 3 children. His youngest daughter is currently attending Loyola Law School here in Los Angeles.
During his first 2 years here at LAUSD, Mr. Vaughn has introduced a new Hot Supper Program, a new mascot, and worked very hard to establish transparency between the Food Services District Staff and the local schools. Mr. Vaughn is very appreciative of the hard work performed every day by the Cafeteria Managers and Workers across the district. Because of their hard work, SY2016-2017 was the best financial year for the division in over a decade, and SY2017-2018 is looking even better.
Mr. Vaughn says his Senior Leadership Team is the most talented and dedicated group of people he has ever had the privilege of working with in his 22 years as a Director. Mr. Vaughn believes that the future is very bright for the Food Services Division because of the dedication of all 3800 employees. "The sky is the limit with this group of people. I am honored and blessed to be a part of it".