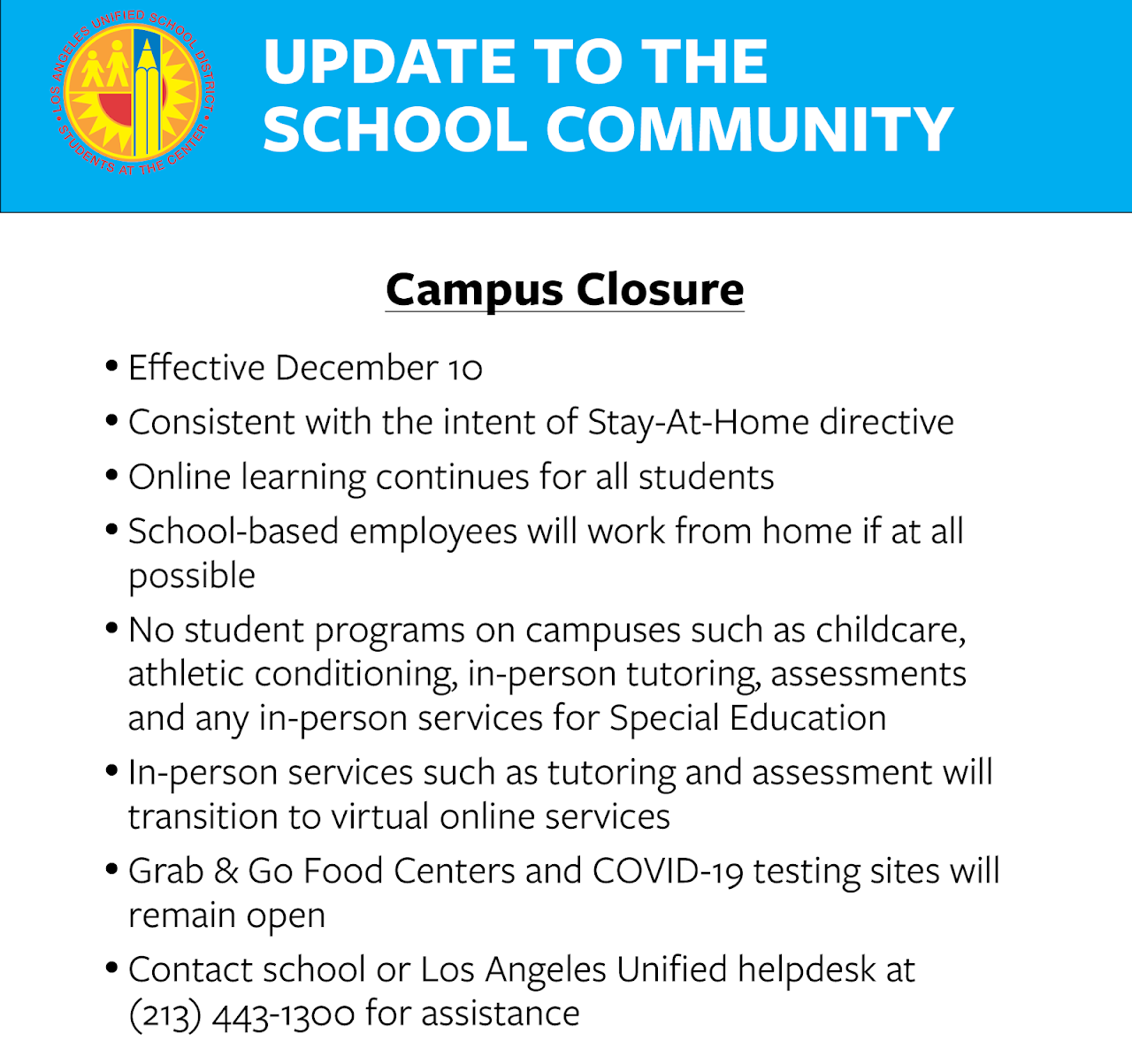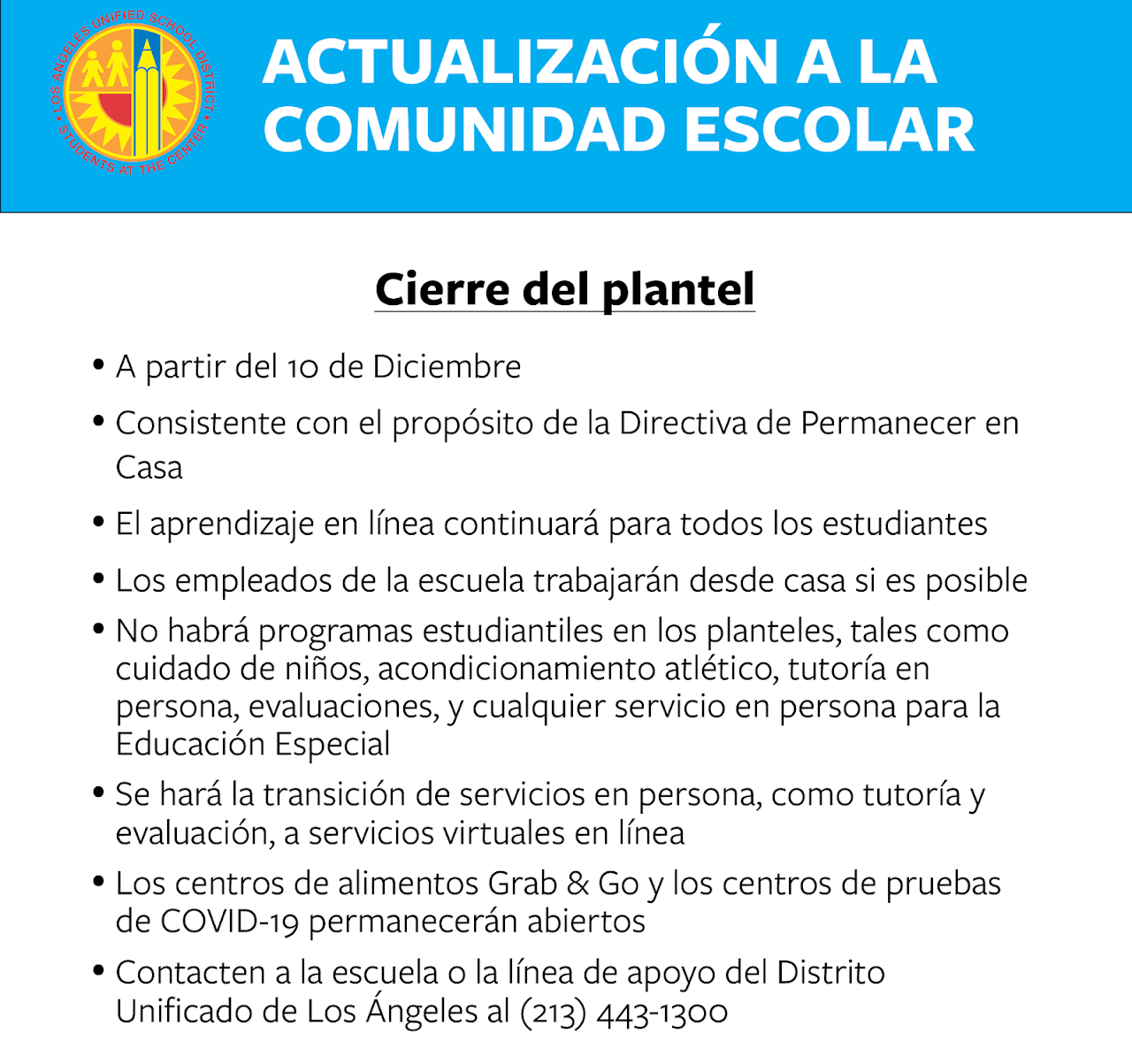 SCHOOL CLOSURES
LOS ANGELES (December 7, 2020) – With COVID-19 case levels in Los Angeles at record highs – nearly three times higher than those in San Francisco and twice those in New York City – Superintendent Austin Beutner today announced the suspension of all school-based instructional and childcare programs for the rest of the Fall semester. (Read the full News release here)

Effective December 10, there are no student programs on campus such as childcare, athletic conditioning, in-person tutoring, assessments and any in-person services for Special Education. School staff will work to transition in-person services such as tutoring and assessment to virtual online services.

If you need technology support, please contact your local school office by phone. Although school offices will be closed, schools will still be answering calls during the school day. The Grab and Go Food Centers and COVID-19 testing sites will remain open. These changes at schools will remain in effect until the next school semester begins on January 11. We'll continue to evaluate the situation and provide updated information along the way.

Thank you for your continued support.
Start Guides - Preparing for Online Instruction
Instructional Support
For instructional support call (310) 354-3400
Parent and Community Engagement
For parent and community support call (310) 354-3230
Operational Support
For operational support call (310) 354-3519
Superintendent Message
Welcome to the 2020-2021 school year. As the Local District South Superintendent, I am honored to continue my commitment to serve all constituents in the communities of San Pedro, Wilmington, Lomita, Harbor City, Carson, Gardena, and selected geographic regions of Los Angeles. My 30 years of experience in L.A. Unified have given me an appreciation for the dedicated work of principals, District employees, families and our communities, and their dedication to the success of our students. Each is critical in realizing our core beliefs and objectives towards 100% of our students being college prepared and career ready.

Core Beliefs

We believe in mutual respect

All individuals, opinions and contributions are valued.

We believe in Excellence & High Expectations

All students, parents, employees and community partners contribute unique talents, strengths and skills to create an environment of excellence.

We believe in Collaboration

All students, parents, employees and community partners communicate and work together for excellence and success.

Goal 100% Graduation

Build a Solid Foundation for Early Learners

Providing Our Youngest Learners with a Quality Start


Proficiency for All

Equitable Access to High-Quality Curriculum and Instruction in Every Classroom, Every Day


100% Attendance

Attendance and Enrollment Matters

Parent, Community and Student Engagement

Engagement and Partnerships To Prepare Students for College, Career and Civic Life


School Safety

Safe Learning Environments that Foster Success

Our Fundamental Strategy

Local District South will direct its efforts and resources to recruit, develop and support principals and teachers in creating a learning environment that ensures 100% of students achieve and graduate.

Michael Romero

Local District Superintendent
Virtual Town Hall Archive
LD South
Virtual School Fair - 10/28/2020
Carson
Community of Schools Town Hall - 11/19/2020
Wilmington Community of Schools Town Hall - 11/19/2020
Local District South

1208 Magnolia Ave., Gardena, CA 90247

Phone (310) 354-3400 - Fax (310) 532-4674 - Email ldsouth@lausd.net