Return to Headlines
Poly High Alumnus Announces $1 Million in Scholarships for Graduates of His Alma Mater (11-20-19)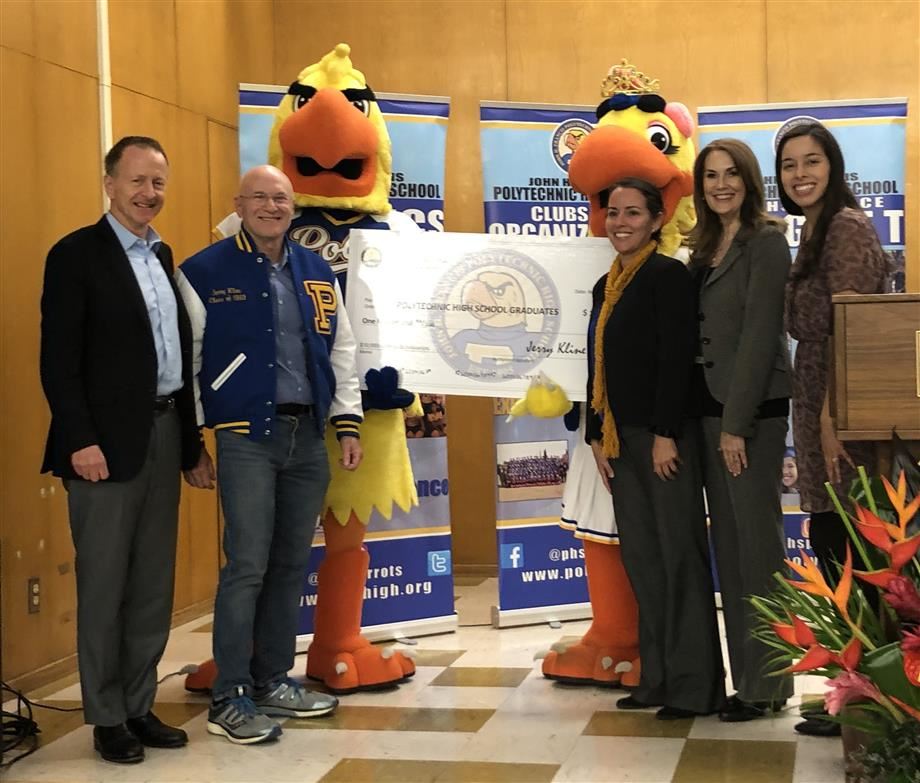 CONTACT: FOR IMMEDIATE RELEASE
Barbara Jones, 213-219-7982 November 20, 2019
Entrepreneur and philanthropist Gerald M. "Jerry" Kline, a 1969 graduate of John H. Francis Polytechnic High School, today announced a $1 million scholarship fund for graduates of his alma mater.
The Gerald M. Kline Family Foundation will provide at least 10 graduates of Poly High School with $10,000 scholarships for each of the next four years. His $1 million commitment is one of the largest individual donations ever received by a Los Angeles Unified school.
"Every child deserves the opportunity to succeed in school and in life, and it takes the support of the whole community to make this happen," Superintendent Austin Beutner said. "Jerry Kline's generous scholarships will help to change the lives of Poly High School graduates."
The surprise announcement was made during an assembly for 200 student leaders at Poly High, where Mr. Kline and Superintendent Beutner shared their own educational experiences and spoke of the importance and benefits of a post-secondary education.
"I am pleased to provide assistance to the community where I grew up," Mr. Kline said. "Sadly, only 5% of my graduating class went directly to a four-year college. It's great that so many more Poly grads are now choosing this direction. The scholarship will enable even greater success by eliminating a financial hurdle."
Mr. Kline earned his bachelor's degree in computer science from the University of California-Berkeley after graduating from Poly High 50 years ago. He is the co-founder and former owner of Innovative Interfaces, which provided management systems to college and public libraries in 75 countries. He led the company for 33 years until 2012. He also created the Gerald M. Kline Family Foundation, which has donated millions of dollars to philanthropic causes, with particular focuses on food, health, housing and libraries.
Based on both financial need and academic standing, the scholarships will be awarded to Polytechnic graduates who attend four-year colleges or universities outside the Los Angeles area. The awards are designed to provide support and expand opportunities for student as they move away from home to pursue their dream of higher education. Recipients must commit to serving as mentors to future college-bound Poly students. Graduates of the Class of 2020 will be the first to receive the funds.
"These scholarships will have a life-changing impact on our students," Board Member Kelly Gonez said. "We are so grateful to Mr. Kline, a Poly alumnus, for his generosity in supporting Poly High School and the pursuit of higher education. Donations like this can open the doors to college for our students."
The Kline Family Foundation scholarships will expand post-secondary opportunities at Poly, where administrators have instilled a college-going culture with application and financial aid workshops for students and families throughout the academic year. An estimated 47% of the Poly's Class of 2019 attended four-year universities, including Columbia, Princeton, the Massachusetts Institute of Technology, the University of Southern California, and the University of California and California State University. An additional 36% enrolled in community college after graduating.
"As a Poly graduate, I know the fears and challenges that students and families deal with as they decide on their path toward college," said Principal Elidia Vazquez, a member of the Class of 1996. "The scholarships funded through the Gerald M. Kline Family Foundation will have a tremendous impact by removing the financial obstacles our families face in the process of attaining their college degree."