Return to Headlines
Los Angeles Unified School District Celebrates Read LA! Day to Prioritize Early Literacy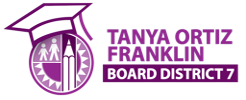 FOR IMMEDIATE RELEASE
Contact: Alexandria Castellanos
a.castellanos@lausd.net (213) 608-5897
Los Angeles Unified School District Celebrates Read LA! Day
to Prioritize Early Literacy
LOS ANGELES, CA (NOV. 14, 2023) — Today, the Los Angeles Unified Board of Education unanimously approved the resolution authored by Board Member Tanya Ortiz Franklin, Celebrating Read LA! Day. This resolution commits to promoting early literacy as fundamental for the development of our children and encourages all Los Angeles providers, schools, parents, civic leaders, community organizations, policymakers and funders to recognize and prioritize early literacy as a cornerstone of our children's education journey.
The Read LA! campaign seeks to engage and mobilize the entire Los Angeles community, fostering an environment where early literacy is recognized, championed and supported at every level. By addressing the literacy crisis head-on, this initiative endeavors to provide every child with the tools and opportunities necessary to unlock their full potential.
"Two years ago the Board adopted four goals to focus our entire district, and early literacy was number one," Board Member Tanya Ortiz Franklin said. "Today's launch of the 'Read LA!' campaign is an important opportunity for the entire community of Los Angeles to join LA Unified and Families in Schools in supporting our students' abilities, motivation and confidence in learning to read and reading to learn. We invite everyone to join us in Literacy and Justice for All!"
"It's always a good day to celebrate reading," Superintendent Alberto M. Carvalho said. "Reading is delightful and it is crucial to instill a love of reading for every student, especially in their earliest years."
In collaboration with Families In Schools and its coalition partners, the Read LA!: Literacy & Justice for All campaign will launch on November 14th to unite the entirety of Los Angeles in a concerted effort to elevate and prioritize literacy to combat the ongoing literacy crisis, ensuring that every child is endowed with the essential right to read.
"Reading is a basic human right – it is essential for succeeding in school and in life," CEO/President of Families In Schools, Yolie Flores said. "Yet, for decades we have denied too many children that right – most especially children from low-income communities and Black and Latino children. We can fix this. We know the science of how children learn to read and have strong research on effective literacy instruction. Los Angeles Unified has a unique opportunity to lead the way given its early embrace of the science of reading. Through the district's leadership, all of Los Angeles can and must come together to make literacy a priority for our children."
"As a former teacher, I saw firsthand the thrill and excitement of helping students learn how to read," Deputy Superintendent of Instruction, Karla Estrada said. "Nothing beats the joy that comes from being immersed in a great book or story. Early literacy is fundamental in setting the groundwork for a lifetime love of reading! Together we can inspire and instill the joy of reading for all our students."
"Reading is fundamental for the development of all people, most importantly, our young learners," Board Vice President Scott M. Schmerelson said. "I am glad to co-sponsor this resolution because I have always been an advocate for fully funded libraries and library aides. Supporting this will promote healthy reading habits and prioritize early literacy."
"Reading is one of the best ways to grow your vocabulary and strengthen your writing skills," Board Member Dr. George J. McKenna said. "Our great storytellers of all genres are avid readers. Let's make Read LA Day the start of reading as a past time instead of simply a tool to complete assignments."
"Reading is a foundational skill, and a habit that can greatly enrich one's cultural and personal life," Board Member Dr. Rocío Rivas said. "Celebrating Read LA! Day highlights the importance of early literacy, and the joy to be found in literature and the connections students can make with each other and the world around them through the written word."
"Instilling a love of learning from an early age is so important," Board Member Nick Melvoin said. "At LA Unified, we want to encourage our students to not just be lifelong learners, but also to become lifelong readers, so I'm glad to recognize Read LA Day and encourage students and families to put away the screens and dive into a good book—and hopefully foster a great new habit."
"Early literacy is essential for our students' long term academic success," Board Member Kelly Gonez said. "That's why the Board identified it as one of its four District goals to guide our strategic plan. I look forward to continued collaboration with our external partners around this work to elevate early literacy and to augment the work already being done in our classrooms to ensure every student is on a path to success in reading."
Board Member Ortiz Franklin is a member of the Los Angeles Unified Board of Education representing Board District 7, where she was previously a student, teacher, teacher-educator and advocate. She is committed to ensuring all students graduate fully prepared to thrive in the college, career and life of their choice. Los Angeles Unified Board District 7 includes the diverse communities of South Los Angeles, Watts, Gardena, Carson, Lomita, Harbor City, Wilmington and San Pedro.
For more information about Board District 7, visit us at https://achieve.lausd.net/bd7 or follow us on social media: Instagram (@lausdbd7), Facebook (@lausdbd7), Twitter (@lausdbd7).
###