WHAT IS ARTS INTEGRATION?
ARTS INTEGRATION IS educational equity in and throughout the visual and performing arts. It is the interrelated spaces of urban education, core curriculum and integrating the knowledge of arts education across formal and informal learning environments.

RESOURCE: Kraehe, A.M., Acuff,J.B. and Travis, S. Urban Rev (2016) 48: 220. https://doi.org/10.1007/s11256-016-0352
Dia De Los Muertos Festival of the Arts 2019
Thank you to all of the schools who celebrated Dia De Los Muertos across LD East!
Congratulations to Hollenbeck MS for receiving $74,000 donation for instruments!
Congratulations to the Performing Arts program at HPHS for receiving $20,000 for instruments!
LD EAST ARTS EVENTS
CHINESE - USA YOUTH CULTURE AND ARTS FESTIVAL 2O20

1/31/2020 @ East Los Angeles College, Ingalls Auditorium

EASTSIDE ARTS FESTIVAL

3/14/202 @ Esteban Torres ELAPA HS

9am-2pm
PROFESSIONAL DEVELOPMENT OPPORTUNITIES & More!
Arts Integration Specialist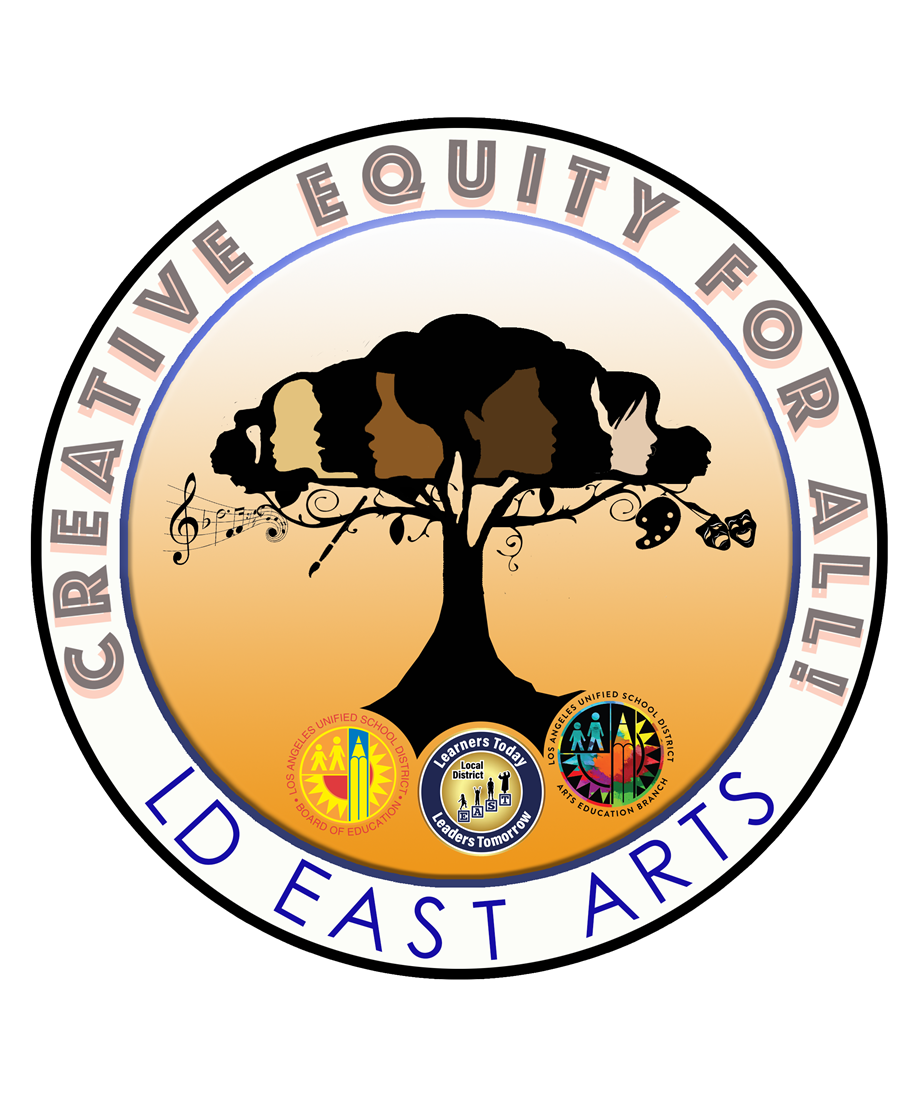 Phone: 323-224-5932
Email:
Degrees and Certifications:
Masters in Educational Administration, Administrative Credential California State University, Dominguez Hills Bachelors of Fine Arts, Option: Art Education California State University, Long Beach Associates Degree in Art Cerritos College, Norwalk CA. Associates Degree in General Studies Cerritos College, Norwalk CA. My passion has always been to make a greater impact in bringing more opportunities to our students who depend on the arts as an outlet, passion and possible professional future. I am excited about this new venture in growing the Arts in LD East from East LA down to South Gate, it is my hope to begin to build many great relationships with students, teachers, administrators and schools!
ART ED RESOURCES/LINKS
Armory Center for the Arts

Nonprofit and donor-supported, Armory Center for the Arts is the region's leading independent institution for contemporary art exhibitions and community arts education. The Armory believes that an understanding and appreciation of the arts is essential for a well-rounded human experience and a healthy civic community.

Arts Every Day

Arts Every Day strengthens learning by making arts education and cultural experiences an integral part of classroom instruction for all students in Baltimore City Public Schools.

Edutopia

Our Foundation is dedicated to transforming K-12 education so that all students can acquire and effectively apply the knowledge, attitudes, and skills necessary to thrive in their studies, careers, and adult lives. Founded by innovative and award-winning filmmaker George Lucas in 1991, we take a strategic approach to improving K-12 education through two distinct areas of focus: Edutopia and Lucas Education Research.

Inner City Arts

Inner-City Arts' beautiful, award-winning campus is a source of inspiration to all who visit. During the school day, after school and on weekends, elementary, middle and high school students come to Inner-City Arts to work with professional teaching artists in well-equipped studios, receiving hands-on instruction in a range of subject areas within the visual, performing and media arts.

Kennedy Center for the Performing Arts

The Kennedy Center is a leader in the arts and in arts integration. Located in Washington D.C., they work on a national level to bring quality arts education to schools.

LACMA (Los Angeles County Museum of Art)

LACMA's Education programs provide opportunities for audiences of all ages to explore works of art. Come join a tour, take a class, listen to an artist talk and much more.

LAUSD Arts Education Branch

The Arts Education Branch of LAUSD offers a wealth of resources, support and expertise in all things art related in LAUSD.

MoCA (Museum of Contemporary Art)

MoCA is the Museum of Contemporary Art located in downtown Los Angeles. MoCA offers world class exhibits as well as cutting edge educational programs for children, adults and educators.

The Getty Center and the Getty Villa

Leading edge education, worldclass art and architecture, stunning views and fantastic school programs at two sites in Los Angeles. The Getty Villa in Malibu and the Getty Center in Brentwood.

The Huntington Library, Art Collection and Botanical Gardens

"The Huntington was founded in 1919 by Henry E. Huntington, an exceptional businessman who built a financial empire that included railroad companies, utilities, and real estate holdings in Southern California. The Library's collection of rare books and manuscripts in the fields of British and American history and literature is nothing short of extraordinary. The Art Collections are distinguished by their specialized character and elegant settings in three separate galleries on the Huntington grounds. A fourth space, the MaryLou and George Boone Gallery, hosts changing exhibitions. The Botanical Gardens are an ever-changing exhibition of color and a constant delight. Covering 120 acres, more than a dozen specialized gardens are arranged within a park-like landscape of rolling lawns. The Huntington's education programs serve a broad audience and provide enrichment for members of the institution, casual visitors, school teachers, children, and adults. Programs range from lively activities for preschoolers to intensive five-week institutes for K-12 classroom teachers." Located in San Marino, CA

The Music Center

"Standing at the center of LA arts and culture for close to 50 years, The Music Center is proud to be regarded as one of world's premier performing arts destinations." The Music Center is home to LA Opera, Center Theatre Group, LA Master Chorale and the La Phil. Located in downtown Los Angeles, The Music Center is a complex of venue including the Ahmanson Theatre, Dororthy Chandler Pavilion, Mark Taper Forum and more. Education is an important part of the Music Center's focus.

Visual Thinking Strategies